Benefits from Reno Business Contracts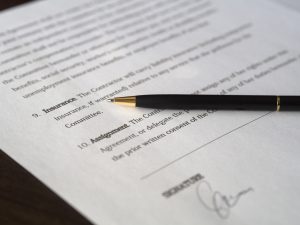 It's a contractor's nightmare. You've finally completed the job, all of your hours recorded and work complete. You send over the finished product and then wait. Weeks pass and you still haven't received a check for all of your hard work. You try contacting them, sending emails and leaving voice messages, but no one picks up or answers. Now you are starting to worry. You didn't sign a contract, but you did record your project and send over an invoice. That counts right?
When fees go unpaid or work undelivered, Reno business contracts may be the only thing you need to make sure the work and money is provided. A clear and concise contract can protect both parties from imperfect memory and messy communication.
Drafting Contracts in Reno
Let a Reno contracts lawyer draft your contract. This legal agreement made between you and another party may be used to ensure payment upon services or duties performed. Drafting contracts in Reno will make sure that both you and the client agree on the scope of the project, expenses and payments, terms and requirement and other liabilities.
5 Businesses that Benefit from Contracts
Landscapers
The number one reason I see for landscapers not wanting to make contracts is because they want the freedom to change prices after a year. However, an attorney-drafted business contract can provide for any changes to price. A landscaping contract helps layout exactly what services are being provided to the property owner. Major duties, services and payments will all be covered, ensuring you receive payment for your service.
Painters/Designers
It can be hard to charge for creative services, and many artists believe they only need contracts for the big or expensive jobs. That is if they decide to get a contract at all. However, it is especially important for creative professionals to have an attorney-drafted contract in place. Each time you sell a piece of work, you are selling the intangible rights to your intellectual property. A contract drafted by a Reno business attorney will protect your interests.
IT professionals
If you are a small and growing IT professional, written contracts are essential to define the scope of the services being provided and the amount expected to be paid.
Independent Contractors
For photographers, writers and other independent contractors who do freelance work, contracts can be the difference between getting paid and not. A contract should be the foundation of your business. You should start no job or complete any work without having an attorney-drafted contract signed.
Concierge
For anyone who runs errands or performs concierge services, an attorney-drafted contract can help outline the services to be performed, the dates, and the cost of those services. This can prove to be useful in the event of miscommunication or misunderstanding in what services the concierge is rendering.
Downloadable Internet Contracts Don't Cut It
An invoice does not qualify as a contract. Also, a contract downloaded from the web most likely won't hold up well in court. These only work great until you have to sue or be sued on them. Contracts are not built to be a "one-agreement-fits-all". Nevada laws change each year and you need a Reno business lawyer to ensure that you are complying with Nevada law and is consistently updated. The best contract is made when you have a lawyer drafting it specifically for you and your business needs.
What Our Reno Contracts Lawyer Will Cover
I go over with them their business model, how they operate, and what they expect from their own clients.

I go over any regulatory issues that may be specific to their industry.

We go over any specific problem areas they've had while in business–certain people who have taken advantage of them/messy fights that could've been resolved with clearer bargaining terms, etc.

I draft a contract that includes all relevant state and federal law to their industry and business.

I draft a contract that tries to close off any loopholes particular to their business and/or any messy situations they particularly encounter.

In your business contract, I always add ways to avoid litigation, such as binding arbitration.

I always add penalties to deter breaching, such as attorney fees, late fees, interest charges, acceleration of debt, etc.

I always draft contracts in a way that the business owner can then custom tailor payments and scope of work for EACH client, but then otherwise know it's legally viable all around.
If you don't have a contract and need to sue to get paid, you are responsible for all of the attorney fees. This, more often than not, will cost you more than how much you are suing to be paid! Cover your tracks before the court. A Reno business contract ensures that attorney fees are already paid.
Reno Contracts Lawyer
The best way to avoid litigation or unpaid work is to run all of your questions, contracts, and other issues by a Reno business lawyer who understands Nevada law and also knows the common mistakes that businesses make. Call Ijames Law today at (775) 870-9199.
Learn More About Reno Business Contracts