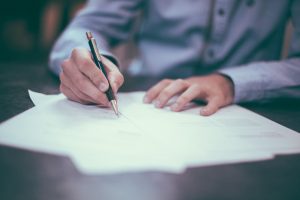 If you want to protect your business from legal backlash, hiring an in-house or an "outside in-house" counsel team should be on your priority list.
Many large companies turn to corporate counsel in order to keep their businesses functioning properly. It becomes the lawyers job to draft legal documents and handle unexpected legal issues, freeing the business to continue their work. Lawyers are often relied upon to take a more active role in managing big projects within a company. Accordingly, they can be a valuable asset to any business.
Corporate Counsel Is Your Fortune Teller
While predicting the future may seem out of your jurisdiction, corporate counsel may do just that. It's the corporate counsel's job to think about all the possibilities and outcomes of different business endeavors. As opposed to a lawyer you only hire when there's a problem, the in-house lawyer looks at all matters from the company's perspective and provides legal advice in any circumstance.
Corporate Counsel Is Part Of The Family
Making a place for an in-house lawyer will pay the company back handsomely in the end. When an outside lawyer starts working with a company, he or she has a very limited knowledge of the day-to-day operations. This somewhat hinders the quality of services that an in-house legal staff can offer. In the meantime, it takes longer to come up with the required solution. When a lawyer is part of your corporate family, such problems don't occur.
Corporate Counsel Is The Expert Near You
When a legal crisis arrises, many businesses prefer dealing with the matter on their own instead of seeking out an outside lawyer. Legal advice is sought less frequently and the company ends up hurting. Knowing that legal advice is always at hand allows the employees to ask more questions, which often makes the chance of a legal mistake less likely. The services of the "outside in-house" lawyer are more valuable than the advice of an outside attorney, and they are always ready to take your call.
Corporate Counsel Is Forever
Once you take advantage of the services of an in-house lawyer, you are unlikely to let them go. Even if your corporate counsel doesn't sit in their office all day long, they know everything about what's going on inside. They can offer valuable advice on any matter. In just a couple of months, you're company will find them to be a valuable asset.
Corporate Counsel Is Your Peace of Mind
Knowing whom to turn to when matters seem to be spinning out of control is what gives many business owners peace of mind. Corporate counsel works to keep legal mistakes from happening and offers a solution if a mistake does occur.
Weighing the pros and cons before hiring corporate counsel can help you to make a choice. When you are ready, Ijames law is here to help. Call us at 775.870.9199 or visit our website to schedule a consultation.