Among the countless worries of entrepreneurs starting up their new businesses is the idea of whether they need a business lawyer. Many small businesses cringe at the high expenses usually associated with legal help, and only hire a business attorney when faced with a serious legal problem. However, finding the right lawyer before the lawsuit can be more affordable in the long run and help avoid litigation.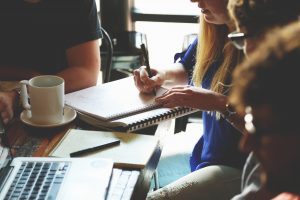 Do I need an attorney when I start my business?
Many new businesses skip out on the lawyer, thinking that they will be safe using downloadable internet forms or contacting a lawyer after a legal problem has arisen. However, this mindset often ends in employee complaints, lawsuits, and hours of litigation (not to mention the exorbitant legal costs along with that).
A business lawyer can help in your new businesses formative years by setting up your company's legal structure, bringing you through the legal start-up process, and drafting contracts for new employees. Here are other ways a lawyer can help prevent litigation before the conflict arises.
1. Business Formation
In business formation, a lawyer can help you create a legal partnership agreement, limited liability company (LLC), or shareholders agreement as well as prepare all necessary paperwork. The choice you make here affects your personal liabilities, tax obligations, and ongoing expenses.
Business attorneys can help organize the legal structure of your business and help you understand the many documents and other required forms necessary for your startup, such as incorporation or lease documents. Also, if you are an LLC or corporation, you cannot go into court without a lawyer if served a summons.
2. Contracts
Reno contracts lawyers can also help in negotiating or drafting contracts for use with customers or clients. Having a corporate counsel on board with your business means that the lawyer will understand your business quickly and can help prepare and implement all necessary contracts as well as help you understand contracts that other people or businesses want you to sign.
Don't put your business at risk by issuing or signing a problematic contract. Reno business contracts can avoid problem clauses and identify what additional language needs to be added dependent on the situation.
3. Employee Issues
A lawyer can help you avoid or navigate discrimination suits in regards to the hiring or firing of a former, current or prospective employee. Whether you want to hire employees or use independent contractors, there are many laws you must adhere to. Don't put yourself at risk of a potential discrimination lawsuit.
4. Complaints
They can also help you and investigate complaints filed against your business from local, state or federal government entities on the grounds of law violation. If a government entity is investigating or filing a suit against your business, you need legal representation.
5. Intellectual Property
It is especially important for those involved in a creative-type business to have a lawyer protect your interests with an attorney-drafted contract. They can also help you register for federal trademarks or copyright protection.
6. Selling or Purchasing a Business
If you are selling your own business or buying another, you should work with a business attorney to understand the more complex aspects of the transaction. A business lawyer can help you value your business, write acquisition and purchase agreements, as well as transfer permits and licenses.
Invest in Prevention
A lawyer's advice can help prevent potential conflicts and give you guidance through the complicated process of starting your new business. Put your businesses emphasis on preventing these issues in the first place with the guidance of a corporate counsel in Reno.
Don't wait until the summons have already been served to hire a lawyer. Your new business will then have to pay charges such as court costs, attorney's fees and other expenses that could have been avoided in the first place with a corporate counsel. A lawyer can free you up to focus on your business itself instead of complicated legal processes.
Trusted Reno Business Lawyer
Heather A. Ijames can provide you with constant access to legal guidance. Ijames Law can help assess every aspect about your business, from the entity formation, your lease and disputes, to employee interactions including how you hire, compensate and terminate employees.